Fujitsu 60 Months No Deposit Interest free
Up to $500 Trade in for Your Old Ducted AC
Ducted Air Conditioning
The ducted reverse cycle air conditioning is considered as the ultimate entire home cooling solution all year long. This system suits most homes even those with numerous rooms in multi storey dewellings. This is one of the popular systems of refrigerated air conditioning Perth homeowners have purchased for their houses. Flexibility comes with this system as it can also provide heating, eliminating the need to have a separate heating system installed.
Ideal Application
The ultimate form of air conditioning, a ducted refrigerated system gives you a choice of comfort level all year round. Suitable for most homes or dwellings.
They are perfect for shopping centres and large areas. They usually involve a central location where is the air is filtered and sent into a system of ducts for each room.
How Ducted Air Conditioning Works
A ducted reverse cycle system works using a compressor, coils, refrigerants, and a system of ducts. A pipe in the system containing refrigerant cools the air, which is then pumped into the home through ducts installed in the roof cavity. This system does not display much of the equipment as the compressor is placed outside and the ducts are on the roof, making it an attractive option for those who wish for their air conditioning system to blend in the house and not stand out. A ducted system is one of the refrigerated air conditioning systems which allows for zoning. With zoning, it is possible for you to switch off the air con in parts of your home that is not in use, minimising environmental impact as well as increasing savings on electricity. This system is thermostat-controlled offering a range in temperature from 18 degrees to 30 degrees.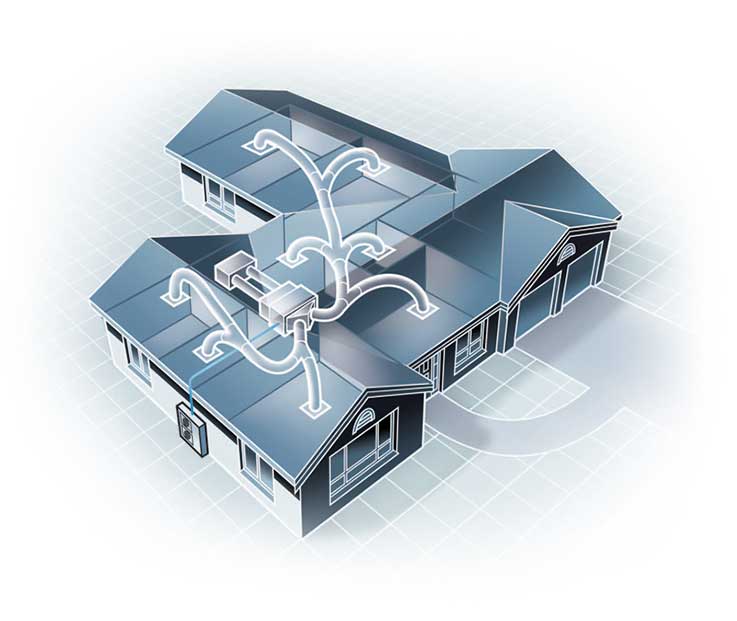 Pros And Cons Of Using Ducted Air Conditioning
Pros
With ducted air conditioning for Perth families enjoy the following advantages:
Reverse cycle allows both cooling and heating, and with the ducted systems there is better temperature control within the home
Discreet system as the compressor is placed outside and the ducts on the roof can blend with the ceiling
Efficiency and flexibility in cooling or heating through zoning, giving the option to cool the entire house or just selected areas or rooms.
Can operate even in places with high humidity
Long-term use of the system because of long usable lifespan
Cons
Here are some things that come with this type of air conditioning system that you'd want to look into before purchase:
Installation costs can be more expensive as ducted systems are more complex in design
Ducted refrigerated systems typically have high running costs
Doors and windows have to be closed when the air conditioner is being used
Brands That Mouritz Offers for Ducted Airconditioning
Servicing Perth, Western Australia
| | | | | |
| --- | --- | --- | --- | --- |
| Available Models | Classic, ESP Plus, ESP Ultima, Platinum | Inverter Ducted Systems | Inverter Ducted Systems | Inverter Ducted Systems |
| Capacity | 10 to 23 kW (8 – 20 outlets) | 7 – 22 kW (6 – 20 outlets) | 7 – 18 kW (6 – 18 outlets) | 7 – 20 kW (6 – 20 outlets) |
| Operating Efficiency | ESP Plus – 60% energy saving (Coolworld Award Winner) | Maximum Inverter Operation | Maximum Inverter Operation | Maximum Inverter Operation |
| Operating Efficiency | Single and 3 Phase | Single and 3 Phase | Single and 3 Phase | Single and 3 Phase |
| Controller | 7 Day + Home Automation ; ESP Ultima – Individual Room Temperature Control | 7 days programmable backlit; controllers with daily or weekly timers | 7 days programmable; controllers with daily or weekly timers | 7 days programmable; with daily or weekly timers |
What Our Clients Say
Testimonials
From start to finish our dealing with David Fisher and the team was professional and proficient. From returning phone calls when they said they would to the actual installation, which was done on the day and in the time they said it would. The system has been running extremely well, and we have recently switched from cooling to heating without a glitch. Great job all around, would highly recommend them."
Venda Wilkie

We recently replaced our old evaporative aircon with a reverse cycle system and we love it. We were given excellent, professional service from start to finish. Brad Watters gave good advice and answered numerous questions. He was extremely well informed and helpful. The installation was carried out efficiently, in time and with a minimum of fuss and everything was left clean and neat. A very happy household in summer and winter. Thank you."
Catherine Finch

Recently had David Fisher design full reverse cycle ducted air conditioning for my house. I could not be happier with the quality of product and workmanship done by the trades. The install was done really fast and no mess was left behind. thanks so much"
Sean Pope


1986 – 2017
#1 National
Fujitsu Dealer

2008
#1 WA
Fujitsu Dealer

2013 & 2012
#1 WA
Bonaire Dealer

2011 – 2014
#1 WA
Actron Air
Dealer
VISIT US
Over 40 years of providing Residential & Commercial Air Conditioning